What is Combat of Giants™:
Dragons' Trading Card Game?
Bring the action of the video game to the fun of the Trading Card Game! Learn how to master the 4 elements (Fire, Ice, Earth and Wind) and combine powers with special attacks and abilities to win the battle! Each Combat of Giants™: Dragons video game comes with a deck of cards. Master the dragon and gem cards, battle with your friends to become Lord of all Dragons!
How does it work?
Before You Battle
Two players are needed.
Both players must divide the deck to have two dragon and five gem cards each.
If each player has their own deck, do not merge the decks.
Understanding Your Powers
Your powers come from the dragon you send into battle and the gem you choose to equip it with.
- Dragon Cards: Each dragon has a name, an element, health points, and a description of its power.
- Gem Cards: Each gem has a name, an element, strength, and a description of its power.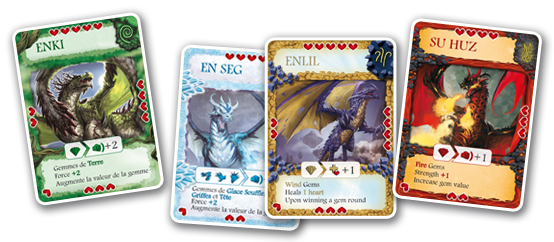 Can I play with the cards that are included in my Combat of Giants: Dragons Nintendo DS™ game pack?
You'll find a Starter Deck of 15 Trading Cards within every DS pack!
Each 15-card set includes:
- 4 Dragons cards (including 1 to 2 rare Golden Collector Dragons!)
- 8 Standard Gems
- 3 Golden Gems! Each golden gem card contains a special power which will allow you a special level of attack for your dragon!
You can play with a friend using the 15 cards included in the pack.
All you have to do is to split them to play with your friend or play with a greater amount of cards if every player has his own set.