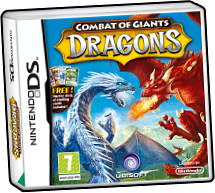 Once upon a time...
Dragons and people lived together in peace and harmony in a land called Tammabbukku, The Dragons Kingdom. However, the humans discovered that the Dragons were guardians of magnificent treasures which held the secret to all their powers.
So they attacked the Dragons and tried to steal their treasures, the most beautiful gems in the whole world.
No Dragon was sacred, from the Noble Dragons, the guardians of the gems to the Fallen Dragons, those without any treasure to protect.
In order to survive, all the Dragons gathered themselves around their powerful lord, Ninnurtuu, the only one powerful enough to save them!
The battle raged on for many days and nights, but eventually Ninnurtuu and the Dragons emerged victorious. After the battle the Dragons were weak, so the Noble Dragons withdrew to the far corners of Tammabbukku, dividing the remaining gems by their elemental powers: Matumlil, land of air, Matumki, land of earth, Matumgirru, land of fire, and Matummu, land of water.
Now with all the gems divided, the Fallen Dragons have grasped the opportunity to take over!
And so a new battle begins from within, and with it, the dark age begins.
As one of the last Noble Dragon's™ descendants, it's up to you to recover the 100 hidden gems and reunite the Dragons Kingdom!
Choose your dragon from one of the four corners of Tammabbukku:
Ice Dragons - Powerful head-blows and defensive supremacy dominate
Fire Dragons - Masters of the fire breath attack
Wind Dragons - Devastate your enemies from above and heal wounds quickly
Earth Dragons - Ferocious tail-strikes and strong poisons that render even the strongest foes drained
Explore the land as you search for gems and dragons!
Discover over 40 unique maps
Use your dragon's breath to uncover hidden treasures!
Battle other dragons and recover stolen gems
NEW real-time battles!
Enhance your attacks with special combinations of gems
Use your dragon's full range of abilities to win battles - Head, Tail, Claws, Breath, or Flight. Which attack will you choose?
Customise your dragon - Make your dragon unique by selecting its colour, tail, wing style, horns, and body type
Challenge your friends in one to one duels or in Tournament Mode with up to four players. Fight to see whose dragon is the strongest!