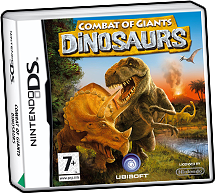 You'll have access to a wide range of Dinosaurs:
from T-Rex to Triceratops, just pick the dinosaur that is your favourite. Choose from 26 different species and 6 of the most popular families.
Take challenges
to unlock and discover new species.
Explore 9 different environments
such as the arid desert, the mysterious forest, or the luxurious jungle.
Experience an intuitive combat system based on your reactions and skill.
The attack success will depend on the quality of your drawing. The more difficult your drawing is, the more damage you could inflict!
Choose from a wide range of moves:
Will you choose a powerful attack or a quick defence move? Intimidate your enemy... Win the fight and become the king of a giants' world!
Customise your dinosaur to make it stronger and more unique:
Choose your dinosaur's colour and stripe patterns. Win fights and collect eggs you can then use to make your dinosaur stronger, faster and tougher. Add thorns, feathers or bones to create thousands of unique-looking dinosaurs.
On each map, you'll meet different dinosaurs.
Some of them are more dangerous than others. If you want to get more eggs, fight the dinosaurs with a yellow halo. The dinosaurs with a red halo are the strongest. Be prepared! Fighting them will be dangerous!