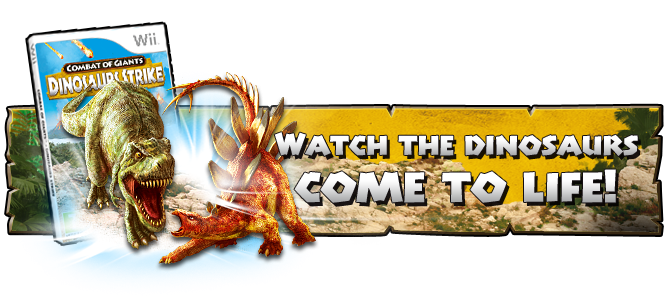 As the brand new addition to the Combat of Giants™ franchise, Combat of Giants™: Dinosaurs Strike pushes the thrills to the limit by immersing the player in a spectacular Jurassic world!
Choose your race, evolve, survive, and fight! It is your job to restore balance and stop the extinction!
SPECTACULAR REAL TIME FIGHTS AT THEIR BEST
Engage in fast-paced 3-round fights with more direct control over your giant creature. Make the most of the Wii controls by performing real-time actions such as fencing, blocking, evading and finally execute your new super attack. Dive into a spectacular Jurassic world and protect yourself from 4 different natural disasters while fighting -from earthquakes to volcano eruptions!
CREATION AND CUSTOMISATION OF YOUR UNIQUE DINOSAUR
Customise your favourite Dinosaur from 18 breeds to choose from such as T-Rex, Stegosaurus, Velociraptor, Triceratops, Ankylosaurus, and Baryonyx. Players can customise their dinosaur with 12 colour options and different stripe patterns as well as upgrade their horns, bone plates, fins/ feathers to make sure they are the strongest.
MULTIPLAYER MODE
Challenge your friends in fierce battles with up to 4 players at a time and discover 3 multi-player modes: Versus (1 versus 1, or 2 versus 2), tournament (4, 8, or 16 participants in a round robin tournament) or tag team (team up with your friend to defeat the deadliest enemies. Tag to replace your friend and jump into the action!)